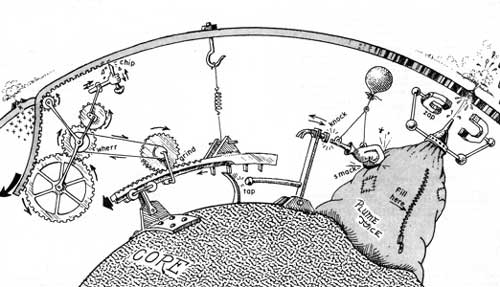 MATLAB/ Octave script to visualize the PIXMAP output of THERIAK DOMINO (for generating a PIXMAP-Folder including "pixinfo-file", read: "THERIAK-DOMINO User's Guide (2008-04-18), Page 40 by Christian de Christian de Capitani and Konstantin Petrakakis")
PIX2MAT.m can be downloaded
here
(Right Click --> 'Download Linked File As...').
1. put the script file "pix2mat.m" in your Theriak working folder (the folder should also contain the "_pixelmap" folder)
2. Run "pix2mat.m" in MATLAB (Octave is also working)
3. A window appears --> choose the pixelmap file that has to be contoured, e.g. "V_solids"
4. Define minimum contour, maximum contour and stepsize in the "Command Window" of MATLAB
5. Done
Supplementary material comprises a modified version of the Theriak-Domino software package (de Capitani and Petrakakis, 2010) including the extended EOS, a new database file JUN92hp.bs with the examples of this study and the THERIAK_D add-on (Duesterhoeft and de Capitani, 2013).
Download the folder TheriakDomino_AJS16.zip.
(Right Click --> 'Download Linked File As...')


For more details see
http://www.ajsonline.org/content/316/6/578.abstract
.
In the case of unchanged composition and database files, we offer the routine
Theriak_QD
, which only requires tables of P-T conditions (two files: one containing a 2D-temperature grid, the other one a 2D-pressure grid).
Theriak_QD
only reads the composition and database files once and then performs the computation for the complete P-T grid.
Using Theriak_QD, is similar to the standard usage of Theriak_D via shell:
Download the folder theriakqd.zip.
(Right Click --> 'Download Linked File As...')


1. Copy all-files into "TheriakDomino/Programs" directory and replace the "Makefile" with the downloaded version


2. Open a Terminal (or in Windows a Batch window), make "TheriakDomino/Programs" the working directory and type "make qd"


3. Start the system shell application (Windows: DOS; Mac: Terminal) and go to the directory with the temperature

and pressure files (temp.m and press.m), e.g. type:
4. Type in the shell: theriakqd inn THERIN
theriakqd   (is the command to execute Theriak_QD)
inn      (is the name of the input-file. It contains following lines: 1.database 2.temperature-file 3.pressure-file 4.command (see Table 1)

li>
THERIN    (is the name of the composition file)
PLEASE NOTE THAT IN COMPARISON TO THERIAK_D, LINE 2 AND 3 OF THE INPUT-FILE HAVE TO BE THE NAMES OF 2D-FILES

(E.G., TEMP.TXT) INSTEAD OF A NUMBER
5. After the calculation is finished, Theriak_QD writes the results in a file, namend "resultqd.txt"